Cruelty-Free Clothing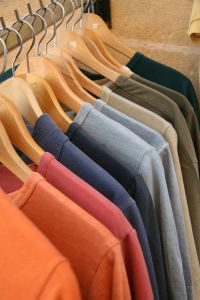 Dress as smart as you eat and stay stylish for a lot less money by shopping cruelty-free. Not sure where to start? You've probably already come across vegan belts, purses, shoes, and clothing at retailers like H&M, Forever21, Urban Outfitters, and Target—places that prove that you can be stylish and compassionate without spending a lot of money. Or shop cruelty-free without even leaving the house with online retailers like ModCloth, Alternative Outfitters, Zappos, or Overstock.com—sites that offer a wide variety of animal-friendly clothing and accessories for men and women at many different price points. Being vegan and looking sharp from head to toe has never been easier!
Here are some basic tips for buying cruelty-free clothing:
Leather
Millions of cows, pigs, sheep, and goats are slaughtered for their skin every year. They are castrated, branded, and dehorned and have their tails docked—all without anesthetics. Then they are trucked to slaughter, bled to death, and skinned. Leather is not simply a slaughterhouse byproduct—it's a booming industry. The meat industry relies on skin sales to stay in business because the skin represents the most economically important byproduct of the meat-packing industry, according to the U.S. Department of Agriculture.
Look under shoe tongues, on tags, and on the insides of belts and bags for fake-leather buzzwords such as "manmade leather," "all-manmade materials," "pleather," and "synthetic." No label or unsure? Ask a salesperson if it is "real" leather. Finally, the price may clue you in. Typically, synthetic leather sells at a fraction of the price of real leather!
Wool
Shearing sheep involves more than just a haircut. Sheep need the wool that they naturally produce to protect themselves from temperature extremes.
Because shearers are usually paid by volume rather than by the hour, they often work too fast and disregard the animals' welfare. Sheep are routinely punched, kicked, and cut during the shearing process.
Much of the world's wool comes from Australia, where tens of millions of sheep each year undergo "mulesing," a gruesome procedure in which shears are used to cut dinner-plate-sized chunks of skin and flesh from the backsides of live animals—often without anesthetics. When you buy wool products, it is likely that you are buying wool from sheep who were raised in Australia, and because most wool is routed through China for processing, product labeling rarely indicates where the wool originated.
Watch out for wool hiding in pants and suits (read labels!), and take a pass on pashmina, angora, cashmere, shearling, camel hair, and mohair, too—they're all made from animal parts. Instead, look for snuggly warm synthetic fabrics such as polyester fleece, acrylic, and cotton flannel—they wash easily, keep their bright colors, cost less, and don't contribute to cruelty.
Heavy, bulky wool can't hold a candle to revolutionary new fabrics such as Gore-Tex, Polartec Wind Pro, Thermolite, and Thinsulate. Polartec Wind Pro is made primarily from recycled plastic soda bottles and has four times the wind resistance of wool. It also wicks away moisture and is available at Patagonia and other outdoor outfitters.
Tencel, a natural fabric made from wood pulp, is a breathable, durable, and biodegradable alternative to wool for men's and women's dress suits. If you're looking for a suit, start shopping in the spring, when summer suits made from cotton, viscose, and other lighter materials are available from retailers such as 99X, TravelSmith, Pangea, and others.
Silk
Silk is the fiber that silkworms weave to make cocoons. To obtain silk, worms are steamed or gassed alive in their cocoons by manufacturers.
Humane alternatives to silk include nylon, milkweed seed-pod fibers, silk-cotton tree and ceiba tree filaments, Tencel, and rayon. You can find humane alternatives to silk ties and other silk items online and in stores for a fraction of the price of silk.
Down
Down—which is used to fill some comforters, pillows, parkas, and other products—is the soft layer of feathers closest to birds' skin.
Down is plucked from geese and ducks either while they are alive or after slaughter. Many geese used for down are held down by workers who tear out the birds' feathers while the animals shriek in pain and terror. This process is repeated multiple times throughout the birds' lives. Birds are often plucked so hard that their skin rips open, leaving gaping wounds that workers crudely stitch back together in the same unsterile environment in which the birds were plucked. All this is done without any anesthetics. "Live plucking of geese or ducks can never be done humanely," writes bird welfare expert Laurie Siperstein-Cook, D.V.M.
Down-free coats, sleeping bags, comforters, pillows, and more can be found virtually anywhere, including at Eddie Bauer, The Company Store, and Bed Bath & Beyond. Read labels and look for the words "synthetic down," "down alternative," or "polyester fill." Also look for items made from high-tech fabrics such as PrimaLoft or Thinsulate—both of which are soft, washable, down-like materials that are often used in coats, gloves, and comforters and that stay warm even when wet (unlike down).
Fur
Forget about fur accessories and coats with fur collars and fur trim. Again, read labels to weed out cruelly produced products. Cruelty-free faux furs made of plush, modern synthetics are becoming easier and easier to find. Fabulous-Furs sells elegant, stylish coats that are completely faux. Many other designers and manufacturers—including Charly Calder, Faux, Purrfect Fur, and Sweet Herb—specialize in fabulous faux furs as well.