Carla Morrison Says, 'It's You Who Can Help End Animal Homelessness!'
Carla Morrison knows what it's like to fall in and out of love. The Mexican singer-songwriter sings about heartbreak and relationships in her Latin Grammy Award–winning album, Déjenme llorar, but when she decided to adopt her two dogs, she immediately knew that her love for them would last forever. In her exclusive interview with PETA Latino, Carla talks about the special bond she has with her pups, saying, "They give me so much love, and I feel that they give me something that no one else does."
Carla's experience with her dogs is why she decided to team up with PETA Latino to urge her fans to adopt animals and never buy them.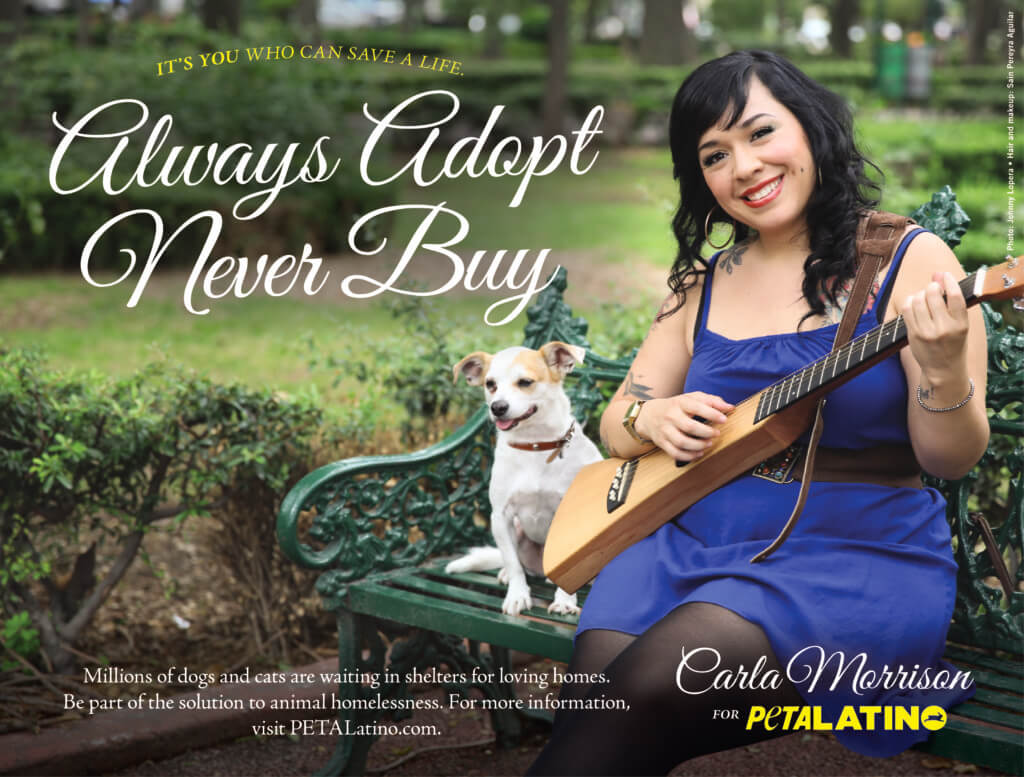 Each year, more than 7 million dogs and cats are left at animal shelters in the U.S.—and nearly half of those must be euthanized because of a lack of good homes. Countless others who never make it to a safe haven succumb to starvation, disease, weather extremes, traffic, and even cruel people on the streets.
Carla decided to adopt after seeing so many homeless animals roaming the streets in her native Mexico. She tells PETA Latino, "They're all special. They all have love to give. And I think it's important for everyone to discover what a wonderful feeling it is to adopt."
Additionally, animals sold in pet shops often come from "puppy mills," where they are housed in cramped, filthy, and unhealthy conditions and lack proper veterinary care. And in light of the current animal overpopulation crisis, it's clear that there's no such thing as a responsible breeder. Carla tells PETA Latino, "Not only is it important that we adopt instead of buying, dogs need us and it doesn't matter what breed it is—that doesn't make one any more special than another."
Join Carla in being part of the solution to animal homelessness by making sure that your animal companions are spayed or neutered and by adopting—never buying—animals.
Check out Carla's exclusive interview behind the scenes at her PETA Latino photo shoot: