Legendary Rocker Joan Jett Unveils New PETA Ad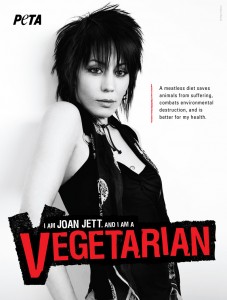 For Immediate Release:
November 6, 2012
Contact:
Wendy Wegner 323-210-2206; [email protected]
Fort Lauderdale Reception Honors Jett, Television Star Marco Antonio Regil With PETA Awards Presented by Iggy Pop
Fort Lauderdale, Fla. — Music legend Joan Jett and television host Marco Antonio Regil were the guests of honor on Sunday at South Florida's gourmet vegan restaurant Sublime. Jett unveiled her brand-new ad campaign for PETA, in which she appears next to the words "I Am Joan Jett, and I Am a Vegetarian." Other notable guests included Corazón Valiente star Pablo Azar and punk pioneer Iggy Pop. Pop presented Jett—a longtime vegetarian activist—with the Nanci Alexander Activist Award, named for the owner of Sublime and the founder of the Animal Rights Foundation of Florida. PETA President Ingrid E. Newkirk presented Regil with PETA's "One Can Make a Difference" Award for his tireless efforts to promote vegan eating. Photos of the event are available here.
"Joan and Marco take every opportunity to talk about the importance of being kind to animals, and they're both among the most dedicated activists I've had the pleasure of knowing," says Newkirk. "People listen when these two stars talk, and they've had a positive influence on countless fans."
Jett's past efforts with PETA include launching the group's vegan/vegetarian starter kit newsstands in New York City, protesting McDonald's cruel chicken slaughter methods, and recording a video vegetarian testimonial, among others. Says Jett, "If there's anything I love more than rock 'n' roll, it's animals." Iggy Pop previously teamed up with PETA for an ad slamming the Canadian seal slaughter, among other efforts. And Regil's work to promote vegan meals includes narrating the Spanish version of PETA's video exposé of the meat industry. He credits veganism with his improved health, saying, "I feel younger. I go on and on, taping for hours and hours, and I still have my energy."
Jett, Pop, and Regil are part of a long list of celebrities—including Constance Marie, Ke$ha, Patricia de León, Vida Guerra, Morrissey, Tommy Lee, Tony Kanal, Natalia Villaveces, Sia, and Rodrigo y Gabriela—who have teamed up with PETA to promote kindness to animals.
For more information, please visit PETA.org.