Vegan Tres Leches Berry Parfaits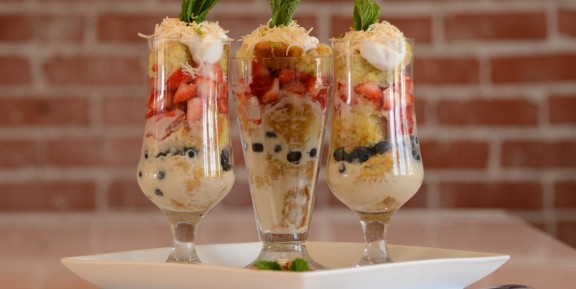 Vegan Tres Leches Berry Parfaits
Prep time:

20 minutes

Cook time:

1 hour

Servings:

Makes 6 servings
Select your preferred print size and click "Print Recipe":

3"x5" Cards

4"x6" Cards

Full Page
Ingredients
1

cup soy milk

1

tsp. apple cider vinegar

1

1/2 cups flour

1

cup granulated sugar

1

tsp. baking soda

1

tsp. baking powder

1/2

tsp. sea salt

1/3

cup canola oil

1/8

cup water

1/8

cup dark rum or brandy

1

tbsp. lemon juice

1

tbsp. Mexican vanilla extract

1

tbsp. finely grated lime peel
Instructions
Preheat the oven to 350°F (175°C). Grease and lightly flour a cake pan (an 11-inch-by-8-inch square pan or 8-inch round cake pan).
Whisk the soy milk and vinegar together in a large bowl and set aside to curdle.
Whisk the flour, sugar, baking soda, baking powder, and salt together in a bowl.
Briskly mix the canola oil, water, brandy, lemon juice, and vanilla extract into the soy milk mixture using a fork. Stir the milk mixture into the flour mixture until the batter is free of lumps. Stir in the lime peel. Pour the batter into the prepared baking dish.
Bake until a toothpick inserted in the center of the cake comes out clean, about 25 to 30 minutes. Let cool on a wire rack for 10 minutes. Loosen the cake from the sides of the pan and turn out onto the wire rack. Let cool completely. Use a serrated knife to cut into 1-inch cubes.
For the Cinnamon Sauce:
1 carton sweetened MimicCreme (or 1 14-oz. can sweetened coconut milk)
1 14-oz. can unsweetened coconut milk
3/4 cup hazelnut or almond milk, or vegan half-and-half
2 sticks cinnamon
1/2 tsp. Mexican vanilla extract
In a large saucepan, combine the MimicCreme (or sweetened coconut milk), unsweetened coconut milk, nut milk (or half-and-half), and cinnamon. Cook over medium heat, stirring frequently, until just boiling.
Remove from heat and stir in the vanilla extract. Transfer to a large bowl. Cover and refrigerate until well chilled. Remove the cinnamon sticks.
For the Coconut Whipped Topping:
1 can coconut cream, refrigerated (full-fat only)
2 Tbsp. agave nectar
1 tsp. vanilla extract or 1 vanilla bean
Refrigerate the can of coconut cream ahead of time to make it firm. Scoop the coconut cream into a bowl and whip with a hand mixer until fluffy.
Add the agave nectar and vanilla. Whip to combine.
To Assemble:
3 cups fresh strawberries, chopped
3 cups fresh blueberries
3 cups fresh raspberries
1 serving Cinnamon Sauce, chilled
1 serving Coconut Whipped Topping
1/2 cup coconut, toasted (optional)
1 sprig fresh mint leaves (optional)
Divide one-third of the cake cubes among eight individual glasses. Pour one-third of the Cinnamon Sauce over the cake cubes. Layer one-third of the mixed berries over the cake cubes. Repeat this layering process. Cover and chill for 2 hours.
Before serving, top with the Coconut Whipped Topping. If desired, sprinkle with coconut and garnish with mint leaves.
Notes
Want a little extra flair for your dinner guests? Serve this dessert in traditional parfait glasses and garnish with a dollop of coconut whipped topping, a touch of toasted coconut, and fresh mint leaves. You can also substitute stone fruits, such as peaches and nectarines, for the berries in this recipe.
Written by Jessika Lauren
Related Recipes