São Paulo Says, 'No More!' to Cruel Cosmetics Tests on Animals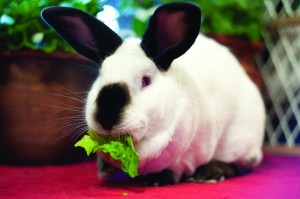 Following on the heels of recent inspiring protests by animal rights advocates in Brazil, which included the release of 200 beagles used for drug testing, São Paulo—the largest state in Brazil, which includes the largest city in the Southern Hemisphere—announced a statewide ban on animal tests for the development of cosmetics, toiletries, and perfumes.
São Paulo is leading the way and setting a great example for other states in Brazil and the Brazilian government to follow. With any luck, they'll join the EU and Israel, which have made animal tests for cosmetics illegal, as well as India, which ended tests on animals for cosmetics in 2013 after an extensive campaign by PETA and its affiliates.
PETA applauds the São Paulo government for making sure that rats, mice, rabbits, and other animals in the state will not be poisoned and killed in cruel cosmetics tests. These painful and archaic tests are still legal in the U.S., and although they are not required by law for cosmetics, some unscrupulous companies still choose to kill animals in the name of beauty.
Thankfully, many popular and innovative cosmetics companies make high-quality products without poisoning bunnies or anyone else in laboratories. Please visit PETA's Beauty Without Bunnies website for a list of more than 1,300 companies worldwide that have vowed never to harm animals while testing their products, and pledge to be cruelty-free now!
Written by Chrissy Matthies
Related Posts