Marjorie de Sousa Urges Fans Always to Spay and Neuter!
Venezuelan bombshell Marjorie de Sousa is best known for playing everyone's favorite villain in the hit telenovela Amores Verdaderos, but to her adopted dog, Dolce, she's always played the part of the warmhearted heroine. The former beauty queen and Caracas native, who is a finalist on Univision's reality dance competition Mira Quién Baila, has been an outspoken advocate for homeless dogs and cats in her country for years, and now she is going beyond the borders of her South American homeland to raise awareness about the animal overpopulation crisis in the U.S. In her new ad for PETA Latino, Marjorie, along with Dolce, reminds her fans that they can help prevent animal homelessness by always having their dogs and cats spayed or neutered.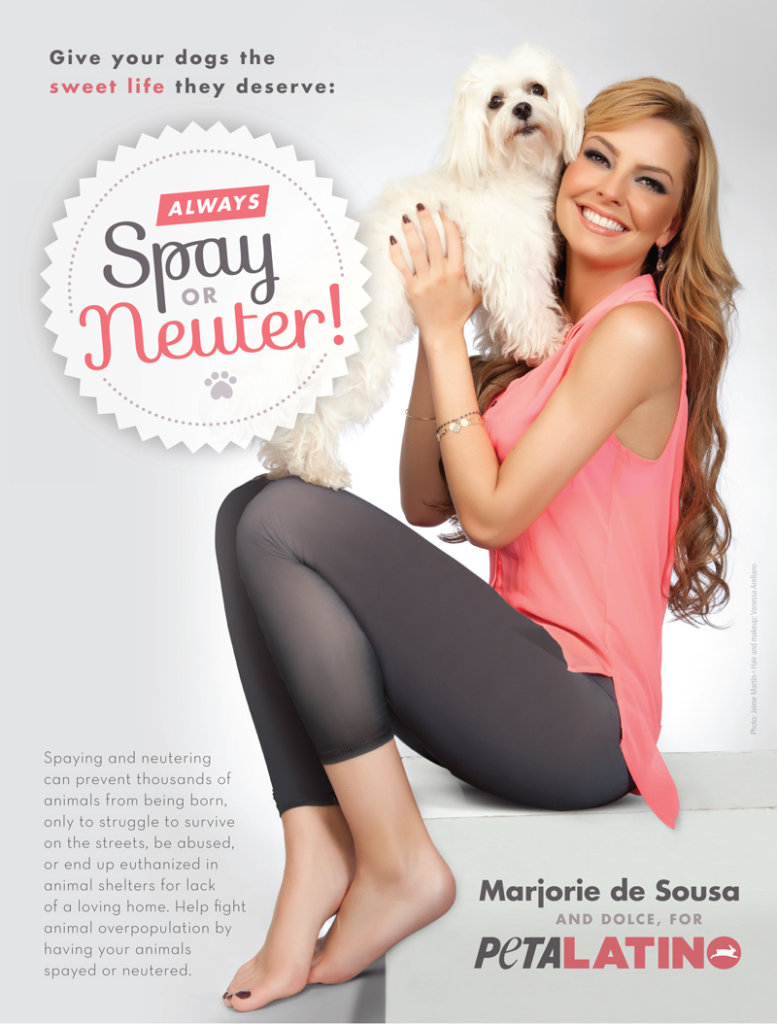 Every year in the U.S., an estimated 6 to 8 million lost, abandoned, or unwanted dogs and cats enter animal shelters. Half are euthanized simply because there are not enough homes for them. Animals who aren't fortunate enough to be taken to a shelter struggle to survive on the streets, where they sustain injuries, are tortured by cruel people, or suffer from starvation, dehydration, diseases, or parasites. Spaying and neutering makes a big difference: Just one unaltered female dog and her offspring can produce 67,000 puppies in only six years. In seven years, one female cat and her offspring can produce 370,000 kittens! But you can help prevent animal homelessness! Aside from always having your animals spayed or neutered, here are more ways that anyone can help end the animal overpopulation crisis:
Always adopt from a shelter—never buy from a pet store or breeder.
Encourage friends and family who are considering adopting to think about the lifetime commitment that animals require so that the animal won't end up back at the shelter.