Colombian Empanadas with Vegan Cheese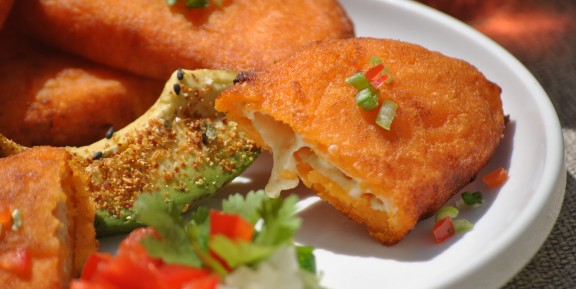 Colombian Empanadas with Vegan Cheese
Prep time:

20 minutes

Cook time:

2 minutes per empanada

Servings:

Makes 6 servings
Select your preferred print size and click "Print Recipe":

3"x5" Cards

4"x6" Cards

Full Page
Ingredients
1

1/2 cups cooked yellow cornmeal (masarepa)

1/2

Tbsp. Sazón Goya Con Azafran

1/2

tsp. salt 2 cups water

1

Tbsp. vegetable oil, plus more for frying

1/2

lb. vegan cheese (try Daiya brand)

Ají,

lime, and avocado, for garnish
Instructions
To prepare the dough, place the cornmeal in a large bowl. Add the Sazón Goya and salt and mix well. Add the water and vegetable oil and mix to form a dough. Pat into a ball and knead until smooth, about 2 minutes. Cover with plastic and set aside for 20 minutes.
Break the dough into small portions of about 1 1/2 tablespoons each, then form each portion into a ball by rolling between the palms of your hands.
Place the balls of dough between 2 pieces of plastic wrap or parchment paper and roll each out to form a very thin circle. Remove the top piece of plastic wrap and place some of the vegan cheese in the center of each dough circle. Then, using the plastic wrap underneath, fold the dough over to enclose the vegan cheese filling, forming a half circle. (Remove the plastic wrap when done.)
Fill a large pot with vegetable oil and heat over medium heat.
Carefully place 3 or 4 empanadas at the time in the heated oil and fry until golden on all sides, about 2 minutes.
Using a slotted spoon, transfer the empanadas to a plate. Serve with ají, lime wedges, and avocado on the side.
Notes
These Colombian empanadas are filled with delicious melted vegan cheese and fried to perfection. You'll want to eat them every day!
Related Recipes