Marco Antonio Regil says being vegan is for you!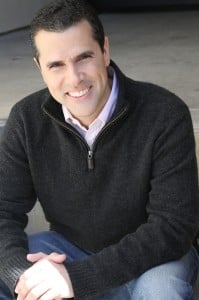 Growing up in Mexico, Marco Antonio Regil says that food was always a big part of his culture, and like most people, he didn't give much thought to what he was putting in his body or where the food came from. That's until a few years ago when he learned about the health implications of eating meat and dairy products and decided to adopt a plant-based diet. Since going vegan, Marco has felt his own health dramatically improve: "I feel younger," he says. "I go on and on taping for hours and hours, and I still have my energy."
Studies have shown that healthy and well-balanced plant-based diets support a lifetime of good health and provide protection against numerous diseases that affect the Latino community, including four of the biggest killers: heart disease, cancer, strokes, and diabetes. A diet free of meat and dairy products can also help alleviate another major health problem that Latinos in the U.S. face—obesity. The Centers for Disease Control and Prevention recently reported that Latinos have the second-highest prevalence of obesity among adults and that "Mexican American children, between the ages 6 and 17, were 60% more likely to be overweight as Non-Hispanic White Children".
But the health benefits were only one of the reasons why the man known as Mexico's number one TV personality and current host of MundoFOX's Minuto para ganar has decided to spread the word about his vegan diet  In a PETA interview, Marco discusses how empathy for animals first inspired him to go vegan. "Can you imagine the terror that a live being should feel when … they're seeing other animals being slaughtered, when they can smell the blood, when they can smell death?" he says. "It just completely breaks my heart."
Join Marco and sign the pledge to be vegan and request your free vegetarian/vegan starter kit.  And don't forget to watch Marco's Spanish narration of "Glass Walls".  Check out his exclusive interview with PETA: